Slade the Supreme – Three's Company Tour – Tickets – The Evening Muse – Charlotte, NC – January 11th, 2020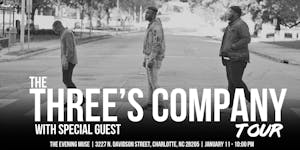 Slade the Supreme - Three's Company Tour featuring: Slade the Supreme, Dre of the East, XBrodie and more!
Slade the SupremeSlade the Supreme is a Kinston, NC native that prides himself on providing a genre he describes as Southern Soulful Hip-Hop with soulful samples, live instrumentation, and 808 heavy trap drums inspired his Georgia upbringing. He's a rapper, writer, and producer that aims to be the best at whatever he does, and he tries to put his best effort forward.
Dre of the EastDre of the East defines himself as one the most versatile artist in North Carolina. His music is rooted in hip-hop, but expands into R&B, Country, EDM, and Pop. The Red Springs native is an artist that is sure to please a wide array of audiences with his talent.
XBrodieXBrodie is a singing and rapping sensation from Johnston County. He believes in providing an entertaining show by giving energy through his music and dance routines.
Chris Meadows

https://instagram.com/meadowsofficial

https://twitter.com/meadowsofficial

Champion Sound

https://instagram.com/_championsoundrecords

https://twitter.com/champsoundx3

Andreaa

htps://instagram.com/officialandreaamusic

https://twitter.com/officialandreaa

Venue Information:
The Evening Muse
3227 N. Davidson Street
Charlotte, NC, 28205