Chase Makai Trio ( of Nahko and Medicine for the People) – Tickets – The Evening Muse – Charlotte, NC – October 25th, 2019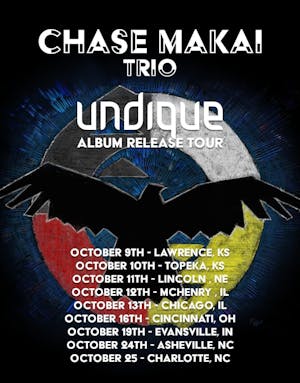 Chase Makai Trio ( of Nahko and Medicine for the People)
Chase Makai Trio "Undique" Album Release Tour
BORN ON BIG ISLAND RAISED IN AUSTRALIA, I PICKED UP MY DADS ELECTRIC GUITAR WHEN I WAS 7. MY NEIGHBOR, RYAN LOVEDAY, WHO IS A LONG TIME BEST FRIEND. TAUGHT ME HOW TO PLAY PARADISE CITY AND A FEW OF HIS DADS ORIGINAL SONGS. I THEN STARTED LEARNING METALLICA SONGS!
MUSIC CAME SECOND TO SKATING AND SURFING. THERE WAS ALSO GENERALLY RUNNING A MUCK AND GETTING IN TROUBLE IN MY LOCAL NEIGHBORHOOD. WE CALLED IT WORLDSEND. IT WAS ON THE EDGE OF A TOWN CALLED NEWCASTLE. "WORLDSEND" WAS THE NICKNAME OF CHOICE, BECAUSE IT WAS AN EASY PLACE TO GET IN TROUBLE. WHICH MY FRIENDS AND I WERE ALWAYS KNEE DEEP IN. THE TOWNS OFFICIAL NAME WAS WALLSEND.
ONE DAY AT 15 I WAS WALKING PAST MY NEIGHBORS HOUSE AND I HEARD HIM SHREDDING SOME CRAZY DIMEBAG RIFF. I WAS LIKE "HOLY SHIT"! HE NOTICED ME STARING IN AWW, AND, ASKED IF I WANTED TO COME INSIDE AND JAM!? FROM THAT DAY ON, FOR THE NEXT 2 YEARS, HE BECAME MY MENTOR, AND BEST FRIEND.
THE MUSICAL CREATION SIDE OF MY CAREER, STEMS FROM MY MUSICAL FAMILY, AND, LIFE EXPERIENCES OVER THE PAST 10 YEARS OF TRAVELING THE WORLD. PLAYING MUSIC WITH NUMEROUS BANDS INCLUDING NAHKO AND MEDICINE FOR THE PEOPLE HAS ALSO GREATLY INFLUENCED ME. MY MUSIC HAS TRULY BECOME AN EXPRESSION OF MY INNER SOUL. EXEMPLIFYING THE EUPHORIA AND STRUGGLES OF THE ROAD. THE BALANCING ACT OF FAMILY AND FRIENDS. AS WELL AS THE DETERMINATION OF SELF GROWTH THROUGH LESSONS.
SOME OF MY GREATEST INFLUENCES COME FROM MY AUSTRALIAN ROOTS AND UTTER RESPECT FOR ABBOIGINAL CULTURE. SO HAND IN HAND MUSICAL INFLUENCES STEM FROM JOHN BUTLER TRIO AND XAVIER RUDD, AND OF COURSE NAHKO. MY MUSIC IS A DEPTH OF GENRES INCLUDING INFLUENCES FROM, REGGAE, JAZZ, INDIE, HEAVY METAL, SKA, AND OF COURSE ROCK AND ROLL!
THIS MUSIC IS MEANT TO HELP IN ALL LIFE SITUATIONS FROM THE HIGHS DOWN TO THE LOWS, AND EVERYTHING IN BETWEEN. THROUGH MUSIC WE CAN RAISE THE VIBRATION OF THE WORLD, AND THROUGH CONSCIOUS LYRICS WE CAN HEAL OURSELVES.
MY FIRST SINGLE RELEASE WILL BE A SONG CALLED "BLACK SNAKE." IT WAS RECORDED BY "KARL VINCENT ROTH" IN "DREW'S LOUNGE ROOM" IN MONTANA. KARL ALSO GRACES THE TRACK WITH KEYS, BASS, AND HARMONIES. "DREW MCMANUS" LEAD VOCALIST OF SATSANG, IS FEATURED ON THE SINGLE WITH AN AMAZING VERSE!
STEPPING INTO "BELL LABS STUDIOS" WITH "TRENT BELL" FOR AN ENTIRE WEEK WAS SO MUCH FUN. AFTER A WEEK LONG ADVENTURE THRU VOCALS, ACOUSTIC AND ELECTRIC GUITAR, KEYS, AND DRUMS. IM SO HAPPY TO SHARE THE FINAL OUTCOME! THE FUN DIDN'T STOP THERE THOUGH! I THEN CONTINUED RECORDING FOR THE UPCOMING EP'S AT "ARDEN ROCK STUDIO'S." WITH BRAMM KAPROW.
OH YA LETS NOT FORGET THAT A TON OF MY FRIENDS HEEDED THE CALL, AND ALL DID SOMETHING SPECIAL FOR THIS CREATION, INCLUDING, MADISON PRUITT, KARL VINCENT ROTH, DREW MCMANUS, AARON HALE, TIM SNIDER, MAX RIBNER, KATIE BUXTON, CASEY KALMENSON, THE OFRIEL FAMILY (HEATHER, SHAWN, AND CHRISSY), TEETO MILLER, CHUCK TORGEY, AND TY CLARKE.
-BLESS UP FAMILY-
SEE YOU ALL ON THE ROAD
CHASE MAKAI
Bandcamp "Black Snake"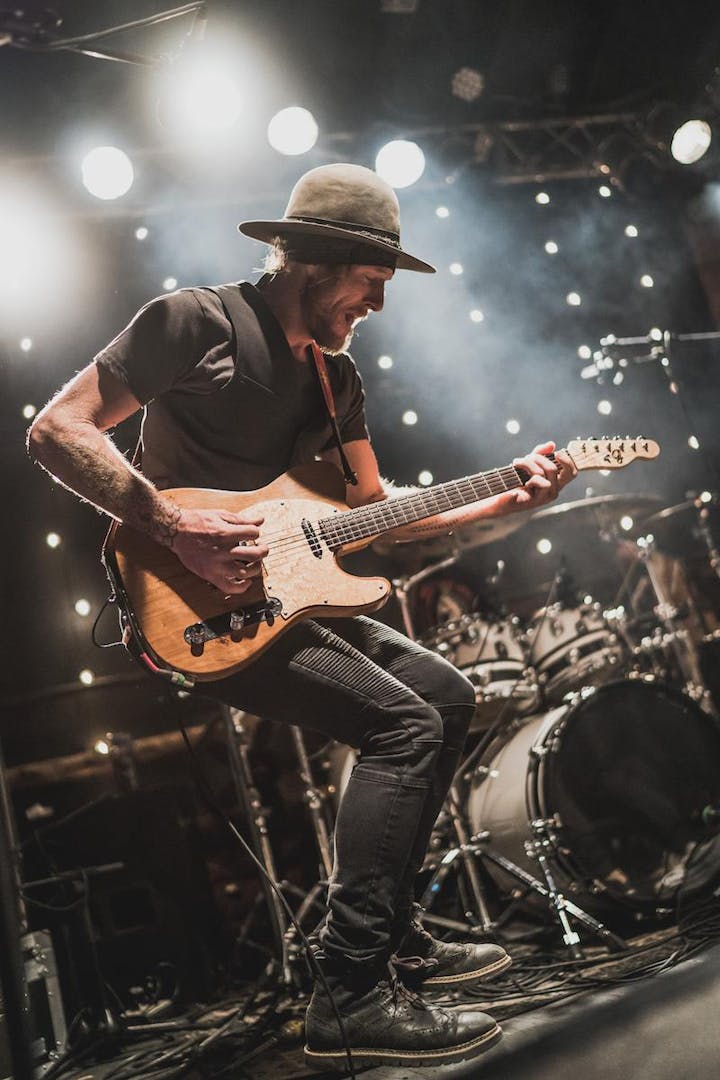 Venue Information:
The Evening Muse
3227 N. Davidson Street
Charlotte, NC, 28205