Carolina Waves CI-AA Showcase & Open Mic – SOLD OUT – Tickets – The Evening Muse – Charlotte, NC – February 26th, 2020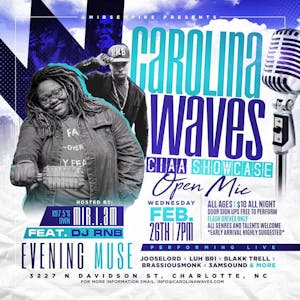 Hosted by K97.5's Mir.I.am the 2-time Indy Week Award winning Best Open Mic
Carolina Waves CIAA Showcase & Open Mic
Carolina Waves CIAA Showcase & Open Mic - SOLD OUT
Carolina Waves Showcase & Open Mic Hosted by K97.5's Mir.I.am
Email info@carolinawaves.com with questions!
The 2-time Indy Week Award winning Best Open Mic, Carolina Waves returns to Charlotte, this time at Evening Muse, for another epic showcase & open mic!
Come perform, network, build your buzz, participate in the live cypher and possibly get booked!
Carolina Waves has booked artists for the Hopscotch Festival, A3C Festival, Art of Cool, Local Band Local Beer, Women's Empowerment, the K97.5 College Tour, various showcases and concerts, and helped local artists land bookings opening up for National Recording Artists.
Singers/ rappers/ dancers/ poets welcome. All genres welcome.
Hosted by K97.5's Mir.I.am.
Doors 7:00pm/ Show 7:30pm
Early arrival highly suggested. Slots fill up fast!
1 song allowed. Must sign up at door.
FLASH DRIVES ONLY!
We are always scouting for upcoming Carolina Waves Shows and other opportunities.
Bring your A game and your squad.
Email info@carolinawaves.com with questions!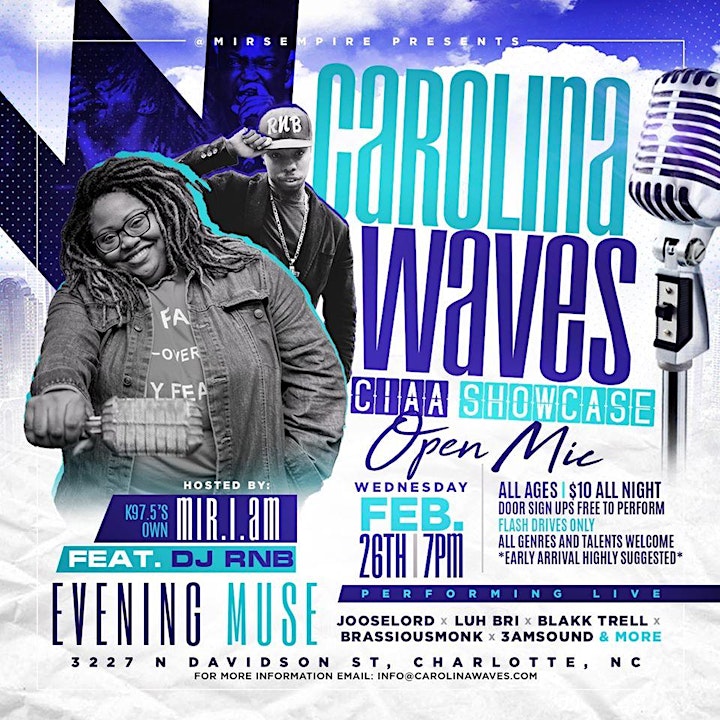 Venue Information:
The Evening Muse
3227 N. Davidson Street
Charlotte, NC, 28205