An Evening with: Sam Tayloe (Time Sawyer) & Mike Ramsey – Tickets – The Evening Muse – Charlotte, NC – December 19th, 2019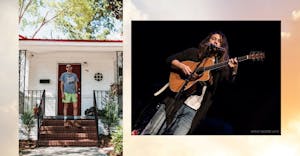 An Evening with Sam Tayloe (Time Sawyer) and Mike Ramsey
Sam Tayloe
Through his full band vehicle, Time Sawyer, Sam Tayloe is interested in "real people and real songs" and that's just what the listener finds in his music – a sense of realness. Blending a grassroots feel with heart-felt lyrics, Tayloe pulls the listener in with introspective ballads that land in that rootsy sweet spot where folk, alt-country, and rock gather for a good time.
For Sam, time is a muse for songwriting; it's the thread that runs through life, bringing new experiences and giving us a sense of urgency, while still connecting us with our past. He has performed either solo or with Time Sawyer on the stages of some of the Southeast's most iconic festivals, including Merlefest, Floydfest, Bristol Rhythm and Roots Reunion, Rhythm n' Blooms, Carolina in the Fall and IBMA's Bluegrass First Class sharing bills with the likes of Langhorne Slim, Phil Cook, Steep Canyon Rangers, The Wood Brothers, Joe Pug, John Moreland, and more.
From Tayloe come memorable lyrics and strong melodies that result in songs that will stay in your head long after the music stops. Sam continues to develop a loyal and growing fan base. Whether playing in an intimate listening room or a large outdoor festival, the goal is to forge a face-to-face connection with the audience so that all become friends who happen to be fans. Sam and Time Sawyer have released a new record, Mountian Howdy (Sept. 13), that can be found on all digital platforms or via timesawyer.com.
Mike Ramsey
Mike Ramsey, a Charlotte, North Carolina native, has enjoyed the better part of the decade as a songwriter. Focused on taking moments in his life and turning them into memorable songs. It's brought him through 2 EPs, and opening spots for touring artist like Hiss Golden Messenger, Donna the Buffalo, and Rhett Miller to name a few. Hes played many of the great listening rooms including a solo performance at the historic Double Door Inn shortly before it shut down.

But 2019 left Mike wanting to take more creative avenues and focus on what made him excited artistically. He teamed up with an Australian film maker for a stop-motion animation to his song "Worries on the Moon". He also collaborated with orchestral arrangers to bring new life to some of his songs. The music was arranged for a 5 piece ensemble consisting of Trumpet, Clarinet, Flute, Violin, and Cello. Mike Ramsey & the 5 Ensemble has now played the Charlotte Today show, closed out the Matthews Alive festival, and recorded they're headlining show at the Visulite theatre. The record is set to come out in early 2020 with more dates for the band.

Until then, Mike is closing out the decade how he began it, just his guitar and his songs.

Venue Information:
The Evening Muse
3227 N. Davidson Street
Charlotte, NC, 28205